niagara falls, ontario with kids
This year has been, well, unique to say the least.  Different.  Memorable. 
Even if you were living under a rock this summer, your life was affected by the pandemic.  And it seems that everyone got impacted differently.  Grandparents living alone felt lonely and disconnected while we, families of young children, felt completely overstimulated and overworked.  And as the world tries to recover from all the craziness by moving from one undefined phase to the next, there's light peering through the darkness of isolation.  Fun children's activities have been reopening using great safety measures.  And one of the best places to go with kids for anyone living in or visiting southern Ontario continues to be Niagara Falls. 
As lifelong residents of the Toronto area in Canada, Niagara Falls has always been a go-to tourist destination for my family.  It has history, good eats, great wine and tons of entertainment for all ages.  So when the area finally started opening up again in phase 3 of the pandemic, I couldn't wait to go check out what's open and available for families of young children.  After visiting many different children's activities and checking their safety measures for controlling the spread of the Covid-19 virus, here's a list of my favorite places to take your kids in Niagara Falls, Ontario during the pandemic.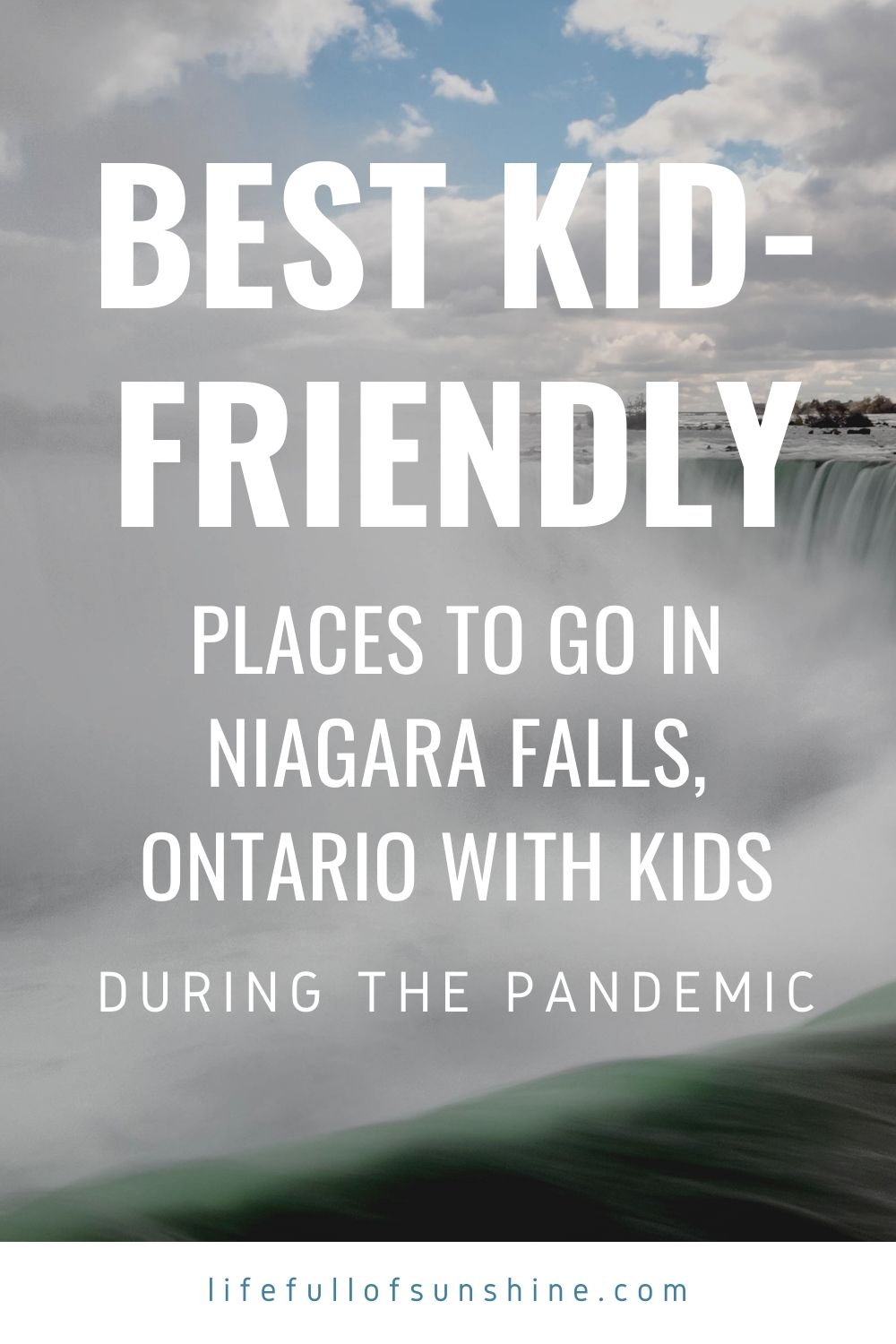 1. safari niagara
Address: 2821 Stevensville Rd, Stevensville, Ontario, Canada, L0S 1S0
Distance from the falls: 18 minute drive
Price: $29.95 CAD for children 3-12 years old, $34.95 CAD for adults
Website: https://safariniagara.com/
We headed over to Safari Niagara with our four little kids (age 7, 5, 4, and 2) on a beautiful summer day and, boy, I cannot say enough about this place.  Such a blast! 
First of all, one of my favorite things about Safari Niagara is that practically all the activities within the park are included in your admission price.  I totally love this.  It's so common in other places to find yourself paying another big sum of money on top of the admission cost just to experience some more attractions within the park.  At Safari Niagara, your admission price includes entrance to the zoo, unlimited fun at the ropes courses (low course available for kids as young as our 2-year old), carousel rides, feeding some of the animals, several daily shows, shuttle train rides throughout the park and a super fun splash pad – which was stopped for sanitization at regular intervals.  The only things I paid for inside the park were slushies for the kids and animal food at the petting zoo. 
The walking route within Safari Niagara is arranged as a large loop with additional stops and attractions along the way.  There's a playground, jumping pillows, catch and release fishing, paddle boats and more.  You guys, it's awesome!  The only big challenge was how many great activities there are available to try to fit into one day. 
My advice for families of young children is to arrive at the park early and make your way to the attractions first.  Things like the ropes courses, the jumping pillows and the paddleboats are empty earlier in the day and collect large crowds and lineups by the afternoon.  The ropes course was a huge hit for my family and a big highlight to the day.  It was beyond adorable seeing my little ones venture up into the different challenges.  Parents are allowed on the high courses with the kids that are daring enough to try them.  Be sure to have secure footwear (they don't allow flipflops – though I used hair bands to secure mine and they accepted that). 
And of course, don't forget about all the awesome animals you're sure to meet.  Lions, camels, flamingos, monkeys and so much more.  Pack lots of water and prepare yourself for a super fun day!
2. clifton hill
Distance from the falls: Right at the falls
Price: FREE 
Website: https://www.cliftonhill.com/
No one should go to Niagara Falls, Ontario and miss out on the Vegas-style strip called Clifton Hill.  This fun street has been here since, well, forever.  I remember going there as a child and it's so fun taking my kids there now. 
Attractions on Clifton Hill include wax museums, World Record museums, Imax experiences, arcades, fun houses, haunted houses, tons of restaurants and treat shops, souvenir stores, and much more.  The stretch of attractions ends right at the Falls themselves where your walk can continue as you overlook the majestic Niagara River crashing down into the water below. 
And I can't forget to mention one of the newest and largest attractions on Clifton Hill, the Clifton Hill Skywheel.  This wild ride takes you 175 feet above Niagara Falls for an incredible, beyond incredible view of not only the falls, but all of the Niagara Falls area.  This luxury ferris wheel seats you in comfortable, closed and fully temperature-controlled gondolas that operate year round, day and night.  This makes for great photo ops and a super memorable experience for all ages. 
3. bird kingdom
Address: 5651 River Rd, Niagara Falls, ON L2E 7M7
Distance from falls: Right at the falls
Price: $18.95 CAD per adult and $14.95 CAD per child between the ages of 3 and 12.  You can take $2 off of this price if you purchase online.
Website: https://birdkingdom.ca/
The Bird Kingdom in Niagara Falls, Ontario is conveniently located right at the foot of Clifton Hill and right at the top of the entry way to the Falls.  It makes for an awesome half-day attraction for children of all ages.  Inside the Bird Kingdom, you'll meet some turtles, lizards, snakes and lots and lots of birds.  Caged birds, free flying birds, and ones you can feed right in the palm of your hand.  It's such a great family experience. 
I would recommend blocking out 2-3 hours for this attraction and exploring it in a slow and relaxed pace.  I often catch myself rushing my kids to move on to the next area when they're still not done admiring the little chicks or figuring out what's in the bird feeder.  Repeat after me: there's no rush, there's no rush.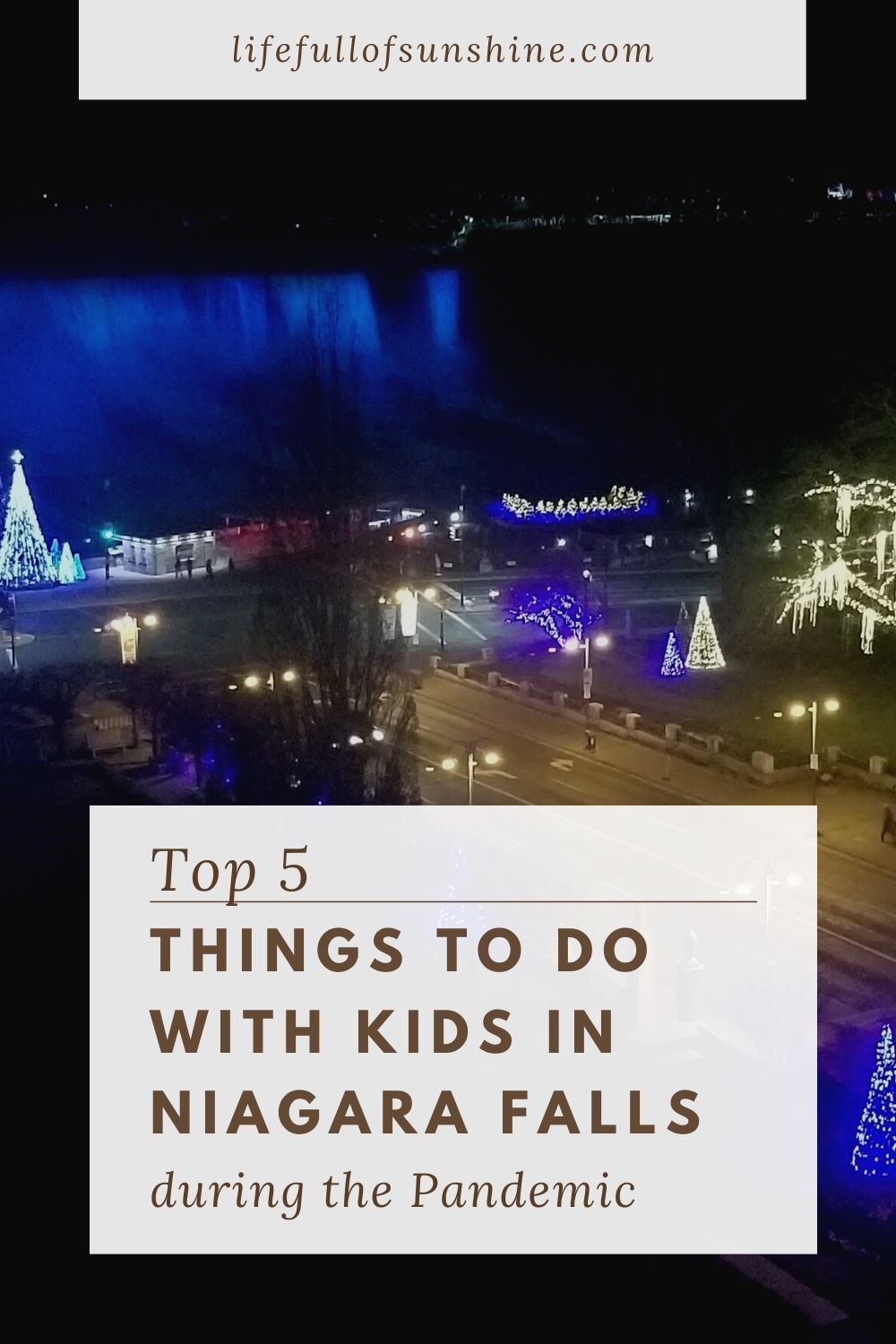 4. butterfly conservatory
Address: 2565 Niagara Pkwy, Niagara-on-the-Lake, ON L0S 1J0
Distance from the falls: 14 minute drive
Price: $16.50 CAD for adults, $10.75 CAD for children 6-13, FREE for children 5 and under
Website: https://www.niagaraparks.com/visit/attractions/butterfly-conservatory/
This indoor park has been a personal favorite of mine for years.  But of course, I'm a huge insect nerd and react to this conservatory like a first-time visitor every single time.  There's something so magical about walking into an indoor space jam-packed with gorgeous free flying butterflies.  It's indescribable. 
The Butterfly Conservatory in Niagara Falls is another great half day adventure for families of young children.  It's not a huge space inside so this is another place to pace yourself slowly and enjoy the awesome experience without rushing.  The foliage is so pretty and there are hundreds of butterflies soaring all around you as you walk through little waterfalls and butterfly feeders.  There's also an area where you can look at caterpillars of different species, cocoons, and newly emerged butterflies. 
Block out about 2 hours for this attraction and make sure your camera's ready for a ton of great family pics. 
5. Lundy's lane
Distance from the falls: 2 minute drive
Price: FREE 
Website: https://www.lundyslane.com/
Lundy's Lane, Niagara falls is an area that used to be quiet and seemingly distant from all the action in the heart of Niagara Falls.  My, how that has changed recently.  In the past few years, the Lundy's Lane area has been intensively developed with new hotels, attractions and a life of its very own.  This area is only a short 5-minute drive from the falls and is now home to some of Niagara Falls' most prestigious hotels, entertainment and restaurants. 
Lundy's Lane has i-fly Niagara, the indoor skydiving experience, great restaurants like Brasa, Copa Cabana and Ruth's Chris Steakhouse, and a great children's play area and arcade.  The area also boasts the incredible Waves Indoor Waterpark that gathers tons of eager visitors, especially in the cold Canadian winter months.  It has become another tourist hub in its own right. 
honorable mention: niagara-on-the-lake
Distance from the falls: 25 minute drive
Price: FREE 
Website: https://www.niagaraonthelake.com/
It's hard to leave out Niagara-on-the-lake as a great addition to a family visit to the Niagara area.  This is a historic area and the views coming into town are incomparable.  This is the heart of wine country so picture some gorgeous vineyards for miles and miles on your route into town. 
At Niagara-on-the-Lake itself, you can park your car and walk along the beautiful streets lined with coffee and ice cream shops at every turn.  Keep an eye open for horse-drawn carriages and beautiful parks where you can have a family picnic by the Niagara river.  This town is also home to some of the most prestigious spas and boutique hotels in the area.  But of course, I'm writing to families of young children so I won't be tempting you with details on those incredible places we barely (if ever) get to go.  I still do encourage a visit to Niagara-on-the-lake where kids can experience local farmer's markets and fabulous gelato.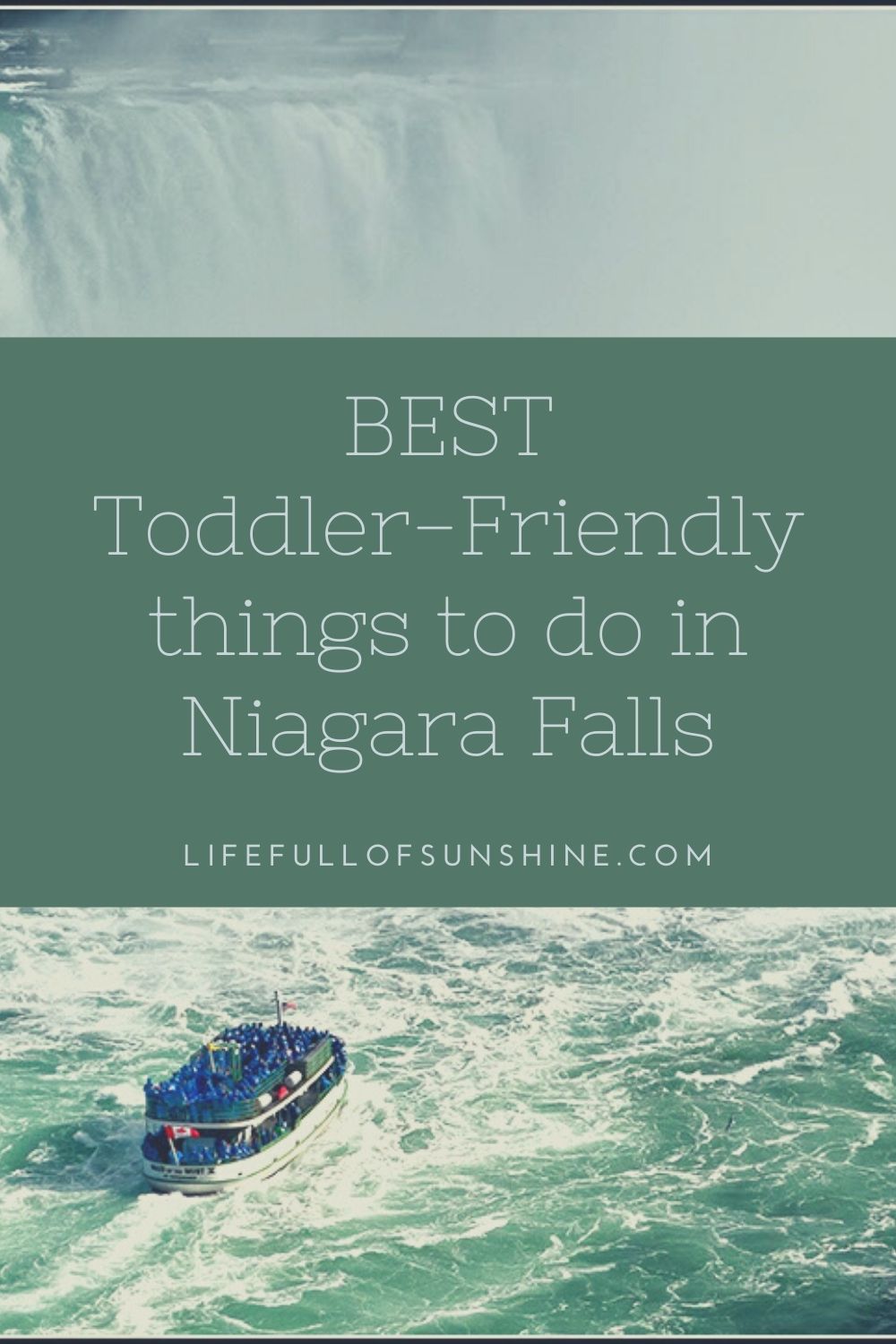 The Niagara Falls area will forever be a family favorite for locals and visitors alike.  This list of awesome things to do with kids in Niagara Falls has stood the test of time, pandemic or not.  And during this crazy time, finding a safe and fun family getaway is a breath of fresh (unmasked) air. 
If you're in the Toronto area with kids, be sure to check out our Toronto with Kids post for tons of awesome ideas in and around the GTA.
Be sure to comment below with your thoughts or questions on the places mentioned above and any other cool family-friendly places to visit in the Niagara Falls area.