7 things to look for in an all-inclusive
when traveling with little ones
In my six years of traveling as a mom, I have learned so many things.  I learned that traveling without kids is so different than traveling with kids – especially little ones.  What I look for in a vacation now is worlds apart from what I wanted in a vacation before I was a mom – for better or for worse. 
Maybe I should give you a little visual.  I am a mom of four little kids ages 6, 5, 3 and 1.  We make quite a scene wherever we go.  But we absolutely love to travel.  And all-inclusive vacations where someone does the cooking and cleaning for me is a total treat. Is it completely relaxing? Well, no.  I still have my cutie pies with me.  I still need to change diapers and feed and protect.  But I'm doing it on the beach.  So ya, it's totally worth it.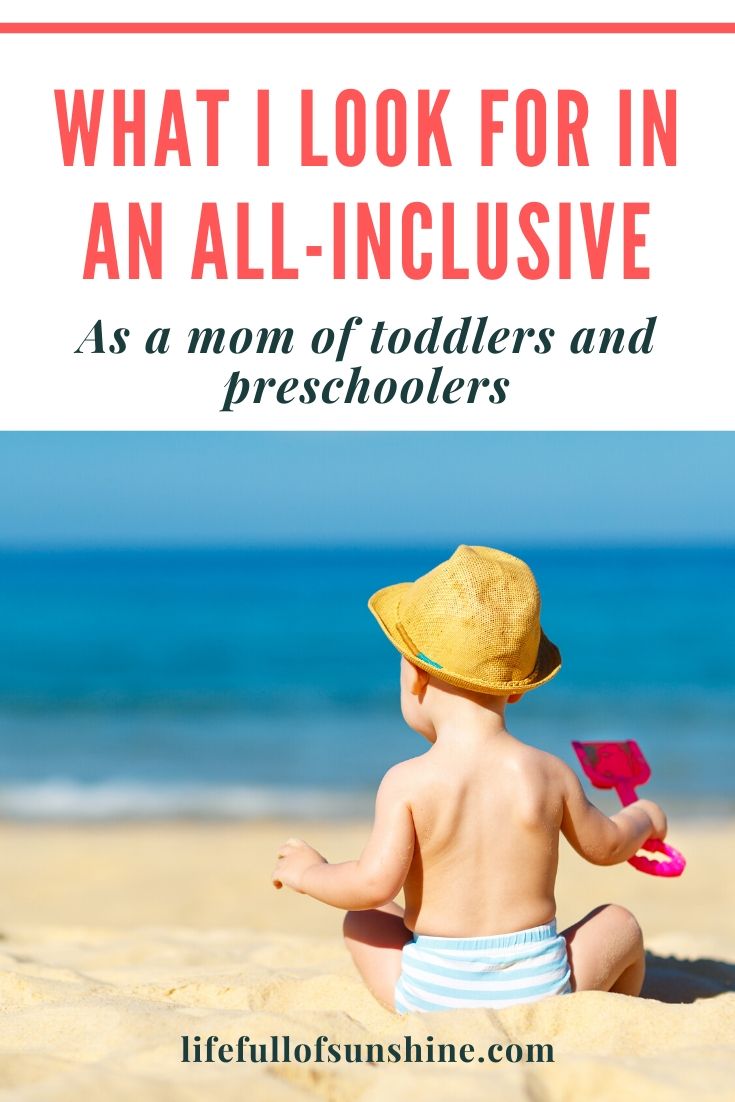 It only took a couple of family vacations for me to realize that what I need in a resort has changed.  I wasn't hanging out where the party's at anymore.  All of a sudden, that area was too noisy and showy.  And seriously, it's naptime!  I wasn't staying up late to watch the nightly show (which was always my absolute favorite).  I found myself in the room by 8 or 8:30pm, expecting peace and quiet.  The day had been long and my sweeties are resting.  And though it may sound sad to some, you know what, it wasn't.  I was okay giving a head nod to the entertainment team, my people, and walking on by to the kids' club area.  I was okay pushing the stroller past the party scene in a hustle so that the kids don't get bothered by the loud music.  I had become a mom.  
That doesn't mean that going on vacation isn't fun anymore.  It totally is.  But it's like Christmas with kids.  The magic is different and beautiful and deep.  I take lots of pictures and keep the memories deep in my heart.  I love sharing vacations with my little ones.  Soon enough, they'll get too big to build sand castles (although I feel like I never have) and they'll prefer to go on vacations with their friends. I'm so grateful and blessed by this time.  Yes, it has its challenges.  But what good and beautiful thing doesn't?  Instead of avoiding it for its potential challenges, I have learned to make good decisions about where we go on vacation.  I look for resorts and destinations that promise the most positive experience for families of little ones.
Here's my list of the top 7 things I look for in an all-inclusive vacation with toddlers and little kids. 
1. small resort size 
It only took one or two vacations with toddlers and babies in large resorts for me to realize the difficulty that comes with this.  Large resort properties might offer more amenities or more restaurants but they also present the challenge of a longer, harder time getting to where you need to go. 
I remember our first vacation in a large resort property with two kids under two.  We had a double stroller, several floaties, some blow up pool toys and all the other baby things like the diaper bag, extra dry clothes, towels, blankies, stuffies, pacifiers, the works.  We got out of our hotel room and had to wait for a shuttle to take us on a 7-10 minute ride to the beach.  When the shuttle arrived, we were asked to fold the stroller.  Fold the stroller!!  Seriously?  The stroller is home to EVERYTHING.  We had to hold on to ALL that was in it while keeping our two little ones from falling out of our laps.   
When we got to the beach, opened and refilled the stroller, double checked to make sure we didn't leave anything on the shuttle and apologized to everyone for taking 10 minutes to do it all, we were exhausted!  Not to mention stuck.  There was no way we were gonna go back to the room before this beach day is over.  It would be a disaster if we'd forgotten anything.  Even having one adult go back alone would leave the other adult on the beach with the kids for a while which isn't ideal.  It was just a huge hassle. 
Since then, I have learned that a small resort size is a huge priority for me.  A small resort means that we can get anywhere we want to go quickly and easily.  It means that when the kids are hungry, we get to the restaurant in a few minutes and feed them sooner.  It means that if something is forgotten somewhere, it isn't a huge deal to go retrieve it.  And it also means that I don't need to spend the first half of my vacation studying the resort map to avoid getting lost over and over again. 
2. a great kids' program 
It's funny.  Before you have kids, you don't even notice that there's something in the resort called the kids' club.  Then you become a parent of a toddler and you kinda live there for the majority of your vacation.  
The kids' club is basically a playground/classroom area where they typically have toys, art and craft supplies, video games and movies, and other cool kids stuff that little ones might enjoy.  They also tend to have a scheduled program of activities for children depending on their age.  They have scavenger hunts, pool parties, talent shows and more. 
I'm a bit picky with dropping my kids off so I often stay with them, at least for the first couple of days of vacation.  If I get the vibe that the staff is attentive and the environment is very safe, then I might consider dropping off (keep in mind that my oldest is only 6).  If I'm not going to drop off the kids and leave, we still use the kids' club for relaxation breaks where the kids can go do some crafts or play some games while we hang out with them.  You can also take them to the scheduled activities and stay around the area and watch. 
In the evenings, there's often a little kids show or mini disco where the kids get to dance and play games with the kids' club staff.  That's also been a highlight of our vacations.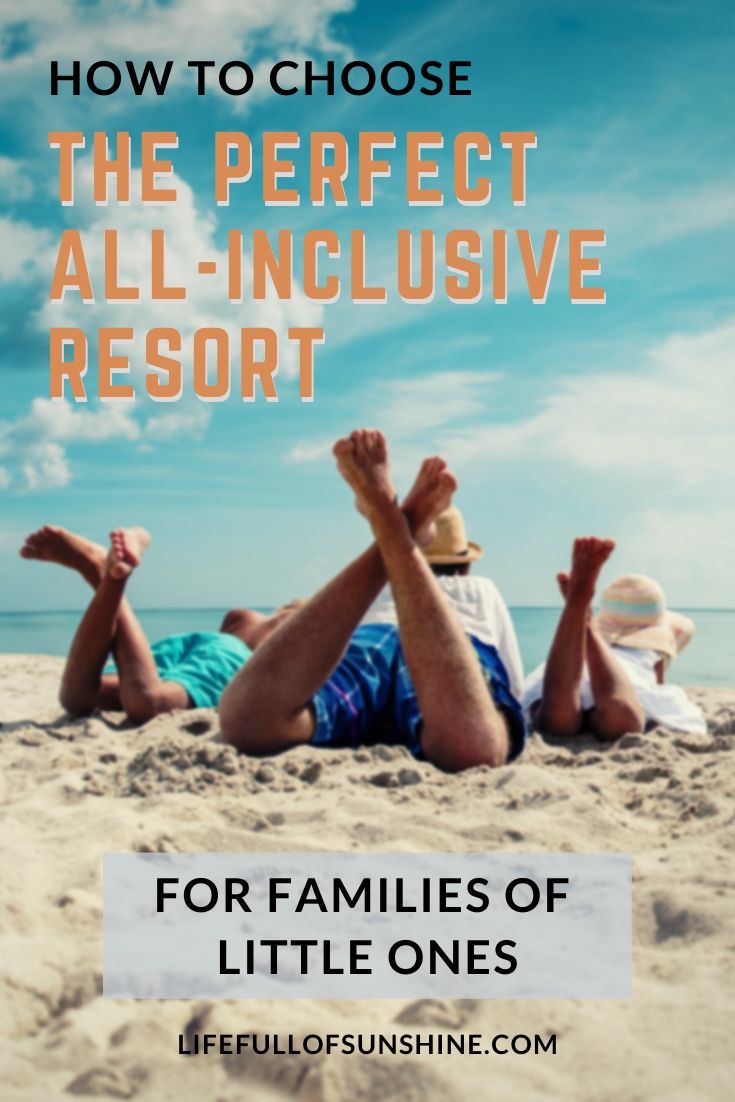 3. awesome amenities for kids 
Many resorts have great children's amenities, like water parks or playgrounds.  This is super useful for the toddler, preschooler, and school aged kids. 
Some resort destinations also have characters like Disney princesses or Spiderman that visit the restaurants or the beach regularly.  It's super fun and the kids get really excited.  The more children's activities you read about in a specific resort, the more likely the resort is accommodating and fun for families.  It's also a lot less likely to be jam-packed with smokers and youth since that type of demographic doesn't usually enjoy the presence of a lot of young children. 
4. great Beach
The beach is very important to us as a family.  We love hanging out there more than we do anywhere else on the property so I tend to read up about the beach area a lot before I book a resort.  I try to find out how clean the sand is and how easy it is to find shady areas.  I also find it much more peaceful when the shore area is known to be smooth and safe.  The waviness of the ocean is another thing that I learned to read into.  We've been to a couple of resorts in the past where the ocean was so wavy that we couldn't take our kids in at all. 
5. good level of Cleanliness
A clean resort is important for all guests but I feel like it became even more important to me when I starting bringing along toddlers and crawlers. 
I gotta mention, though, that I am not a clean freak.  I'm a believer of the 5 second rule and that double dipping is an acceptable practice (at least between family members?).  So, I don't even notice some of the things that certain travelers seem to really emphasize on their travel reviews.  If there are chips in the bathtub or the couch isn't flawless, my eye will not catch it.  That is not a source of disappointment to me. 
Having said that, I still expect clean rooms that don't have ants or cockroaches.  I don't like when the beach is home to bees, wasps or sand bugs.  I'm bothered by stained sinks and toilets that won't flush (oh how I hate toilets that won't flush).  So that's the kind of standard I look for and read into before I book a resort or hotel. 
Before you book, assess your own comfort and need for cleanliness and search reviews accordingly.  Look for reviewers that seem to be speaking your language and check photos wherever possible.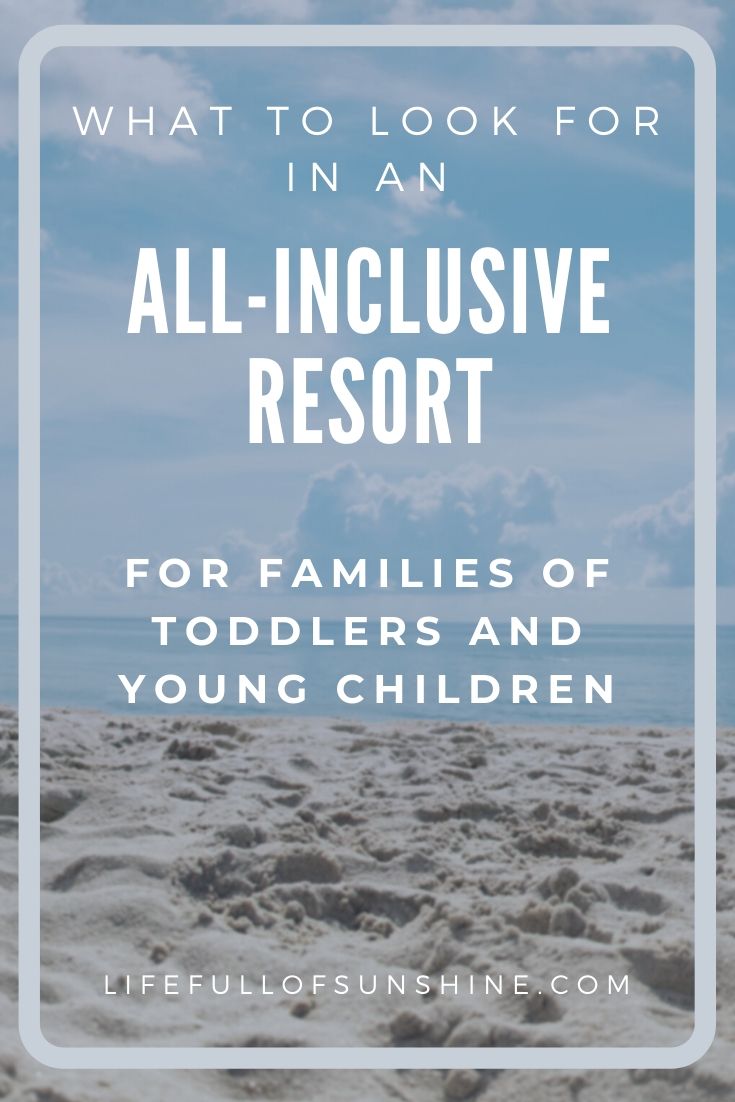 6. good food
I know that food quality and variety is very important to some people, families included.  For some families, this is more of a priority than the beach or the kids' activities (shout out to my brother – food is important man).  I'm not super picky with this.  As long as reviews aren't talking about a big shortage of food or food quality, I'm okay.  I'm a lot more concerned about cleanliness and availability.  If the food is well-kept and healthy, my family will be happy.
So food is another item that needs you to reflect on where your preferences are as a family and what is important to you when it comes to food.  Then look for that stuff within travel reviews. 
7. not too busy
I used to love big crowds you guys.  A crowded place meant there was fun in the area, and that's where I wanted to be.  That's not so much the case now, four little kids later.  I avoid busy places – and busy resorts – as much as I possibly can. 
By busyness here, I don't mean I prefer resorts that only accommodate a smaller number of guests.  I just prefer resorts that are not jam-packed.  I prefer resorts that don't have a huge number of youth and young adults looking for a party.  My happy place is a peaceful, light-hearted resort where my kids can play without me having to apologize to anyone or ask anyone to keep their language or their actions clean.  You know what I mean?
Please don't forget to share this post with other parents that might find it useful.  And feel free to comment below with what you look for when you book your own family vacations.