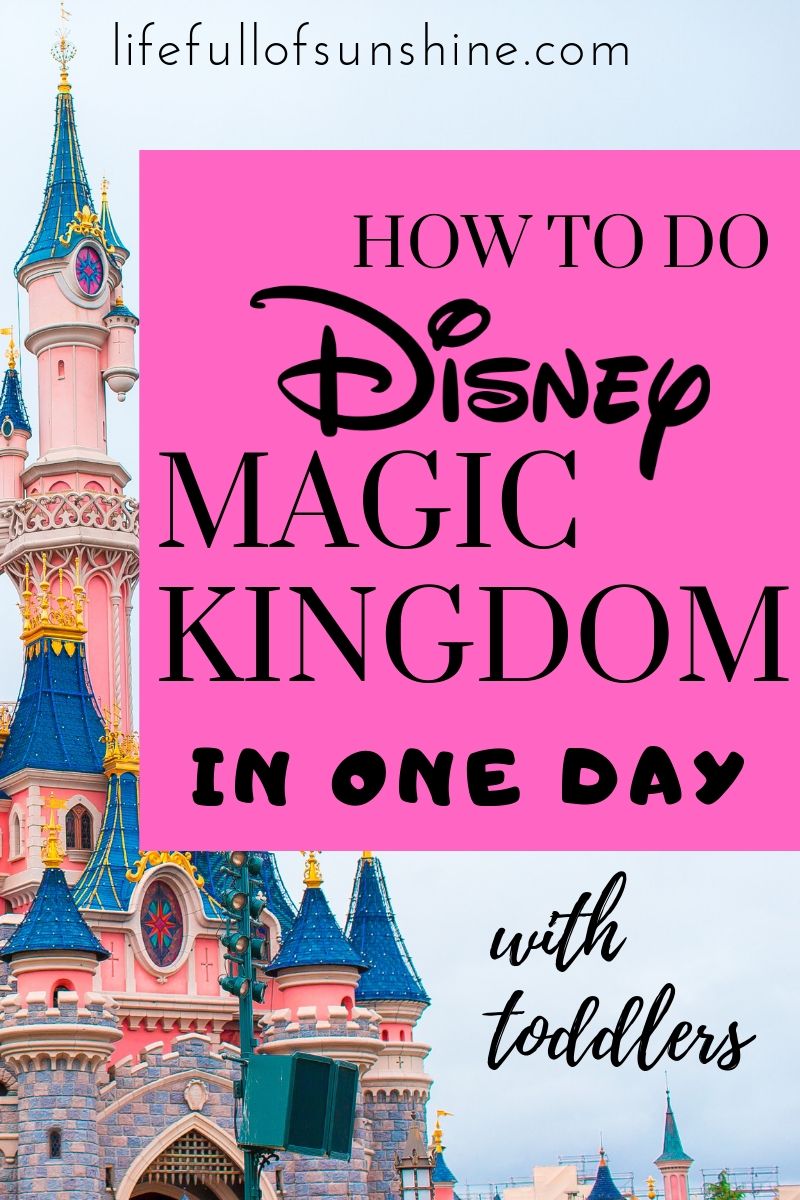 Ahh the magic of Magic Kingdom.  You can say that I go so that my kids can have a good time, but let's be real.  I'm the one thrilled to meet Mickey and take a picture with Belle.  You just can't help but love Magic Kingdom. 
I honestly believe that, with a little bit of good planning, you can take your toddlers and babies to Magic Kingdom and still have a magical day.  I found that when I had a plan, or a flexible itinerary for my day, things went smoother and I was more peaceful.  The last trip we had to Magic Kingdom included my husband and I, our 5 year old, 4 year old, 2 year old and 5 months old.  Sound overwhelming?  It wasn't!  We had a blast.  Here's the itinerary I had planned for our day at Magic Kingdom with kids and what you need to know about the park.
The park is actually an island
The day we went, the park opened at 9am.  I had big dreams of being there right at that time.  For those of you who haven't been to Magic Kingdom before, it's actually an island.  That means that once you park your car and head to the entrance, you need to either catch a quick ferry or train ride into the park.  In the morning, there are some serious lines already forming at those boarding locations.  So you do need to expect about a 30 minute gap between parking your car and walking into the actual park. 
As is often the case with families of little ones, we were running later than we expected.  We ended up getting into the park past 10am.  My biggest tip here is to not get upset over little things.  If everyone is safe and having fun, then remember Elsa's advice and just Let It Go (see what I did there?). 
Learn all you can about the free Disney FastPass+ service
Another really important thing about slaying the day at Magic Kingdom with kids is to know the ins and outs of the FastPass service offered by the parks.  I have a whole post, titled Disney FastPass Hacks, on this awesome FREE service so be sure to check that out before going.  The FastPass service is included in your Magic Kingdom ticket and allows you to skip some lines of certain attractions that you can book ahead of time.  Use this!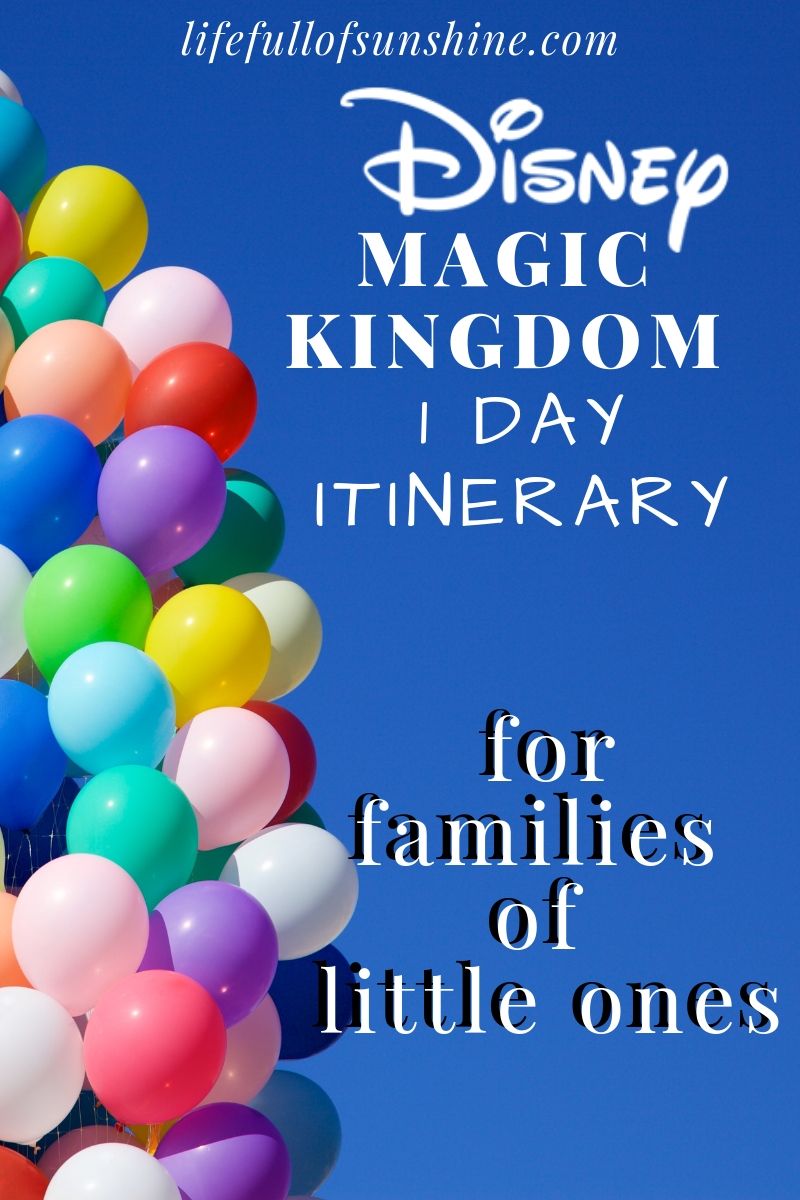 The park is divided into lands
Before we went to Magic Kingdom, I had a printed map of the park.  The official Disney website has park maps and daily schedules in a very accessible format (Check out the official website here).  The map included the names of all the rides in each "Land" (area of the park) and how tall a child must be to ride it. I highlighted all the rides we didn't want to miss and made my itinerary based on that. 
I should also mention that I prepared all our meals for that day ahead of time and brought them with us.  I wanted to avoid the cost of eating at the park and have more time for the actual rides and attractions.  Having said that, I know some people just love having their meals in the beautiful restaurants available at the park.  It just wasn't part of our itinerary that day. 
Another important thing to keep in mind is the importance of stopping for frequent restroom breaks.  I found it helpful to just stop every time we pass by a restroom and have everyone try to go even if they don't feel it.  That way, we can potentially avoid having to run to one when it's an emergency. 
Start at the back of the park
Right when you enter the park, my suggestion is to head straight to the back of the park to visit "Fantasy Land".  This is the area that has the most toddler rides close together.  There are several princesses you can line up to meet back there too. 
My list of rides we wanted to get on in Fantasy Land included "Dumbo's Flight", "It's a Small World", "Peter Pan's Flight" (we ended up missing that one), "The Many Adventures of Winnie the Pooh", and "Under the Sea with Ariel".  I was also hoping to ride "The Carousel" and the "Barnstormer" but they were at the bottom of the priority list and we didn't end up finding time for them.  We finished all this by the early afternoon and marched off to lunch.
The Baby Rest Station
There is a great "Baby rest station" on Main Street at the front of the park.  This area is air conditioned and has restrooms, changing tables, a little TV playing kids cartoons and some tables for the kids to eat on.  There's also a nursing room in there and a little shop where you can purchase quick snacks.  I found this place to be perfect for rest times and naps.  We headed over there and had lunch while watching some cartoons.  This was around 2pm and I did not want to miss the 3pm parade that happens everyday at Magic Kingdom. 
The daily parade at Magic Kingdom is so awesome and totally worth the time.  Our 2 year old had his lunch and went down for his nap in the stroller during that time so he ended up missing the parade but we walked out to Main Street and saved a spot to watch the parade right after lunch.  You don't have to be out there too early for a spot.  You'll be able to see from wherever you are really.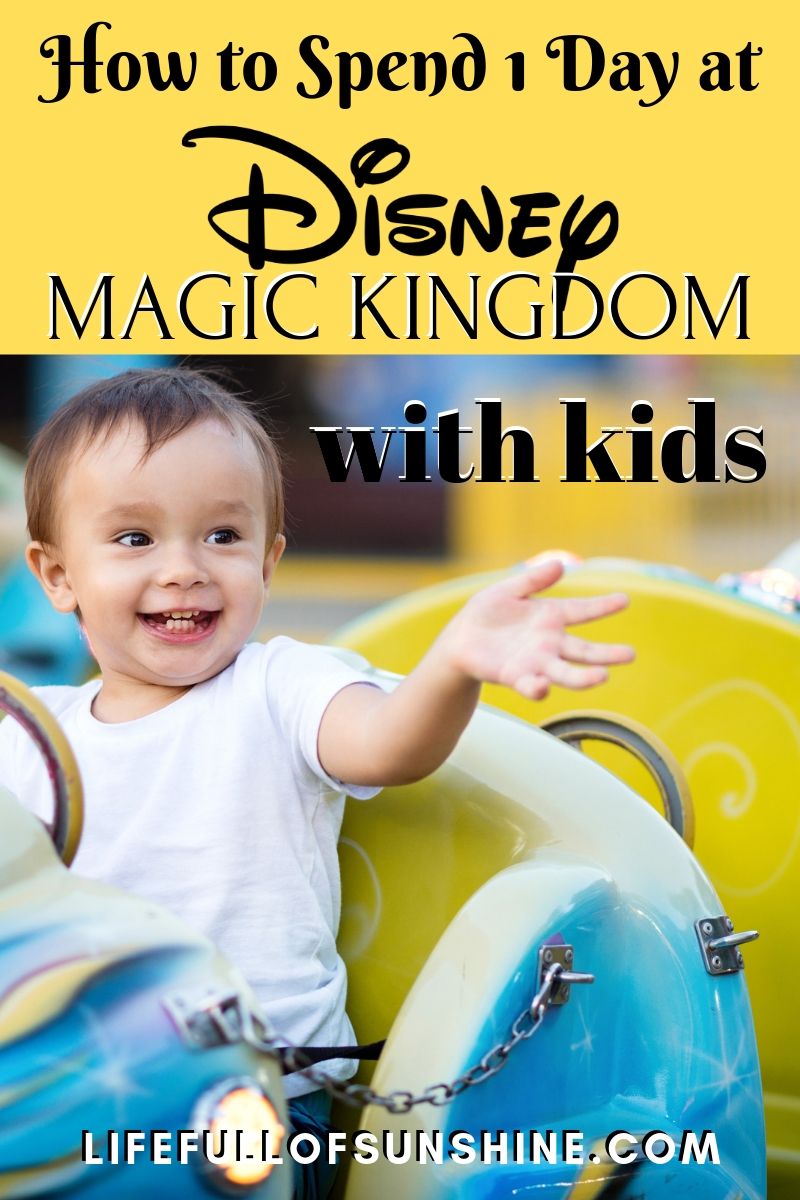 After the parade, we headed over to "Adventure Land" and got on "The Jungle Cruise", the "Swiss Family Treehouse" (a walk through type of thing with lots of stairs), and "The Magic Carpets of Aladdin".  Then we walked over to "Tomorrow Land" and settled on some benches for dinner around 6pm.  After dinner, we headed off to catch "Buzz Lightyear", "The People Mover" and "The Astro Orbiter".  We ended up missing "Monsters Inc Laugh Floor" and the "Carousel of Progress". 
the nightly fireworks show
By the time we finished all that, it was just before 8pm and time for the finale of the night.  The Fireworks show can be viewed from lots of different places throughout the park.  In my opinion, the best place for families of little kids to watch the fireworks is near the exit.  That way, once the show is over, you don't have to navigate through the huge crowds that will start making their way to the exit at that time.  It's important to realize that by this time of the evening, everyone's tired.  You're tired and the kids are super tired.  They will be cranky and you will need agility and patience.  You can do it! 
We walked out and caught the ferry back to the parking lot and headed back to the hotel after a super tiring, super magical day filled with memories and fun.  Were there tantrums?  Well, of course there were.  But we handled them with as much grace as possible and talked about what other fun things await.  In general, the trip to Magic Kingdom with kids… still so worth it! 
Looking for more fun kid-friendly stuff to do?  Check out this list of awesome things to do in Orlando with kids besides the major parks.
Looking for more of a VIP experience?  Disney also offers VIP Tour Service.  This would be purchased in addition to your park admission tickets and includes a bunch of perks and inclusions.  Check out this awesome post titled "Disney VIP Tour Service; 6 Reasons To Use It (5 Reasons Not To)" for all you need to know about the VIP Tour Service.  
Don't forget to share this post with other families of little ones that might benefit from some tips and strategies for going to Disney's Magic Kingdom with kids.  I'd also love to hear your thoughts and comments below.