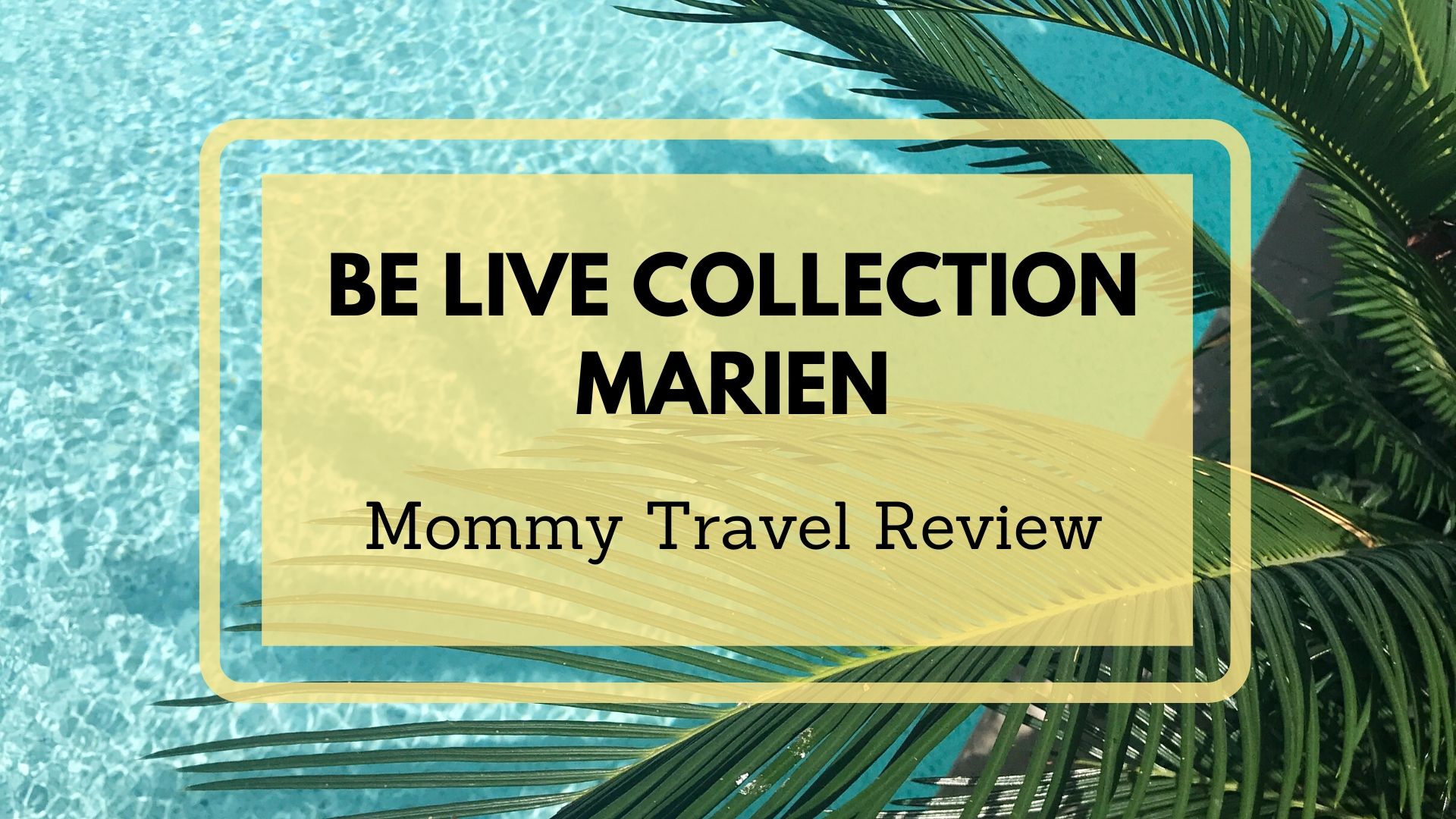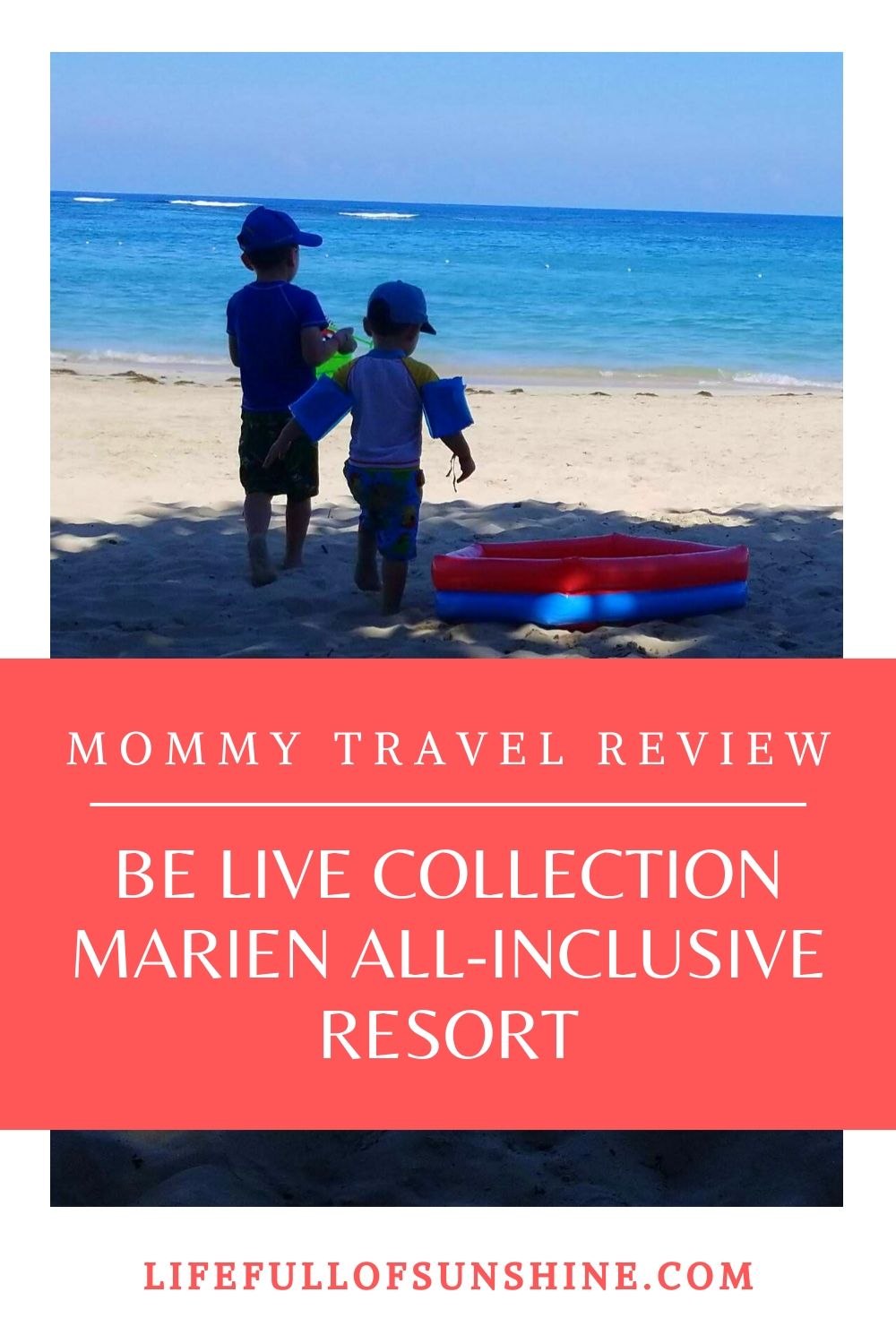 be live collection marien family travel review
Something you should know about my family is that we try to avoid visiting the same resort twice.  We love checking out new places and finding new experiences.  But… we've had a family vacation at Be Live Collection Marien twice.  That's saying something!
As a mom of little ones – 4 kids 5 years old and under, to be more precise – I have developed a new eye for all-inclusive resorts.  Check out the 7 things I look for in a resort before I book an all-inclusive family vacation. 
When it comes to Be Live Collection Marien, I love this resort you guys!  I have made so many wonderful memories there.  The first time we went, we only had two kids – at that time they were 23 months and 7 months old.  The second time we went, we had all four kids – our youngest wasn't even 3 months old yet.  Both vacations were fantastic and we had a wonderful time. 
Please note: I provide this review as a mom of young children, toddlers and babies.  This means that I am a lot more concerned with kid-friendliness, noise level and a calm, clean beach than I am about an awesome night scene or a super engaging entertainment team. The kids club is my jam. 
Also, this post is not sponsored and all opinions are my own. 
Be Live Collection Marien is an all-inclusive, kid-friendly resort located in Puerto Plata, Dominican Republic on a beautiful stretch of beach called Playa Dorada.  The weather is fabulous year-round and the city is safe and central.  Here's what you need to know about taking a family vacation at Be Live Collection Marien. 
mommy verdict:   
thumbs up
what we loved
Small property size

Walk-in pools

Great kids' club programs
what we didn't like
Towel service refused to change towels throughout the day

Pool-side chair shortage

Busyness during weekends
FIRST IMPRESSION (vibe/reception/check-in)
Upon arrival, there is often a big rush of people that form a giant line at the front desk.  This is a typical thing that happens at most resorts right when you get there.  Here's a tip: have one adult stay by the bus and deal with strollers and luggage while the other adult takes the kids and passports and heads straight for the front desk.  This can sometimes save you a really long wait time at the check-in counter. 
The lobby of Be Live Collection Marien is large and beautiful.  We were greeted by alcohol-free cocktails in tall glasses so my kids loved that.  Check-in was smooth and accommodating.  They did a great job of making us feel welcome and excited about the vacation ahead.  The lobby and check-in desk overlook the main pool of the property so there's a lovely view to look at while you wait. 
beach
The beach at Be Live Collection Marien is long and beautiful.  The staff does a great job of keeping it as clean as possible.  The sand is not powdery, white sand but it definitely does the trick for building awesome sand castles and forts.  It's clean and soft and there's plenty of shady areas.  Some days, it was hard to find beach chairs under the umbrellas if we didn't get to the beach early enough.  But we were always able to find empty chairs and pull them under the shade of some palm trees. 
Although this is probably dependent on weather, the waves were generally pretty mild.  We were easily able to take our kids, including our little 2 month old baby, swimming in the ocean.  There were a few patches of rocky ground but they were clear and avoidable.  The beach stays shallow for several meters so that makes it perfect for little ones to play by the shore.
There were two shower stations on the beach where you can clean off as you leave.  Personally, I have a weird need for showering the kids after they swim in salty water, especially the babies.  I just don't like them spending the day covered in itchy salty water.  So here's another tip: I often bring a little inflatable baby pool that I fill with fresh water and take with me to the spot where we're sitting.  After I take the baby swimming, I give them a bath in the fresh water right when they come out of the ocean.  Then, I change them and can be more relaxed with them napping or chilling for the next couple of hours.
Guests and staff were very welcoming of our troop of four little kids and there were many other young children at the resort so we didn't feel like we were sticking out (too much). 
pools
The pool at the Be Live Collection Marien resort is right in the middle of the property.  It's shaped like a three-leaf clover.  Each of the three pool entrances is a walk-in, beach-like entrance into the water.  For me as a mom, this gives so much peace of mind.  The kids were safe playing at the entrance of the pool without me having to be in the water. 
Given that this is the only pool of the property (with the exception of the little one at the kids' club), the entertainment and activities that are organized by the resort's entertainment team took place here in the late afternoon.  That made the area loud and busy around that time so we either went back to the beach or played at the kids' club to avoid the noise and crowds.
The towel exchange service desk was right by the main pool and we did have a bit of trouble with them.  As a family of 6, we have to switch lots of towels… I get it.  But given that our four little ones went in and out of the water a lot, it became a huge inconvenience when the towel attendants gave us a hard time about switching our used towels for clean ones throughout the day.  They said we can only pick up fresh ones in the morning and then return them for cards in the evening before 6pm.  There was one time when one of the girls who worked at the kids' club (and knew our family) was passing by the pool.  We shared our frustration about being told that they had no clean towels available, so she went behind their counter and just got us 6 fresh towels. 
Another thing to note here is that there is no swim up pool bar inside the pool.  The bar is on the pool deck and service there is usually quick and pleasant.  Except on weekends.  Starting mid-day Friday all the way to mid-day Sunday, the resort gets filled with local families.  This results in a lot more noise and crowdedness.  Locals also seem to crowd the bars and speak up for their orders instead of waiting their turn.  It's really not a big deal.  We just had to have the kids within arm's reach so that they don't get pushed or shoved by accident. 
There is only one shower area by the pool but it was rarely ever busy.  Pool chairs did get taken very quickly though, and during most of the day, it was very hard to find chairs in the shade.  We ended up needing to drag a chair into someone's shade but most people were very sweet about it.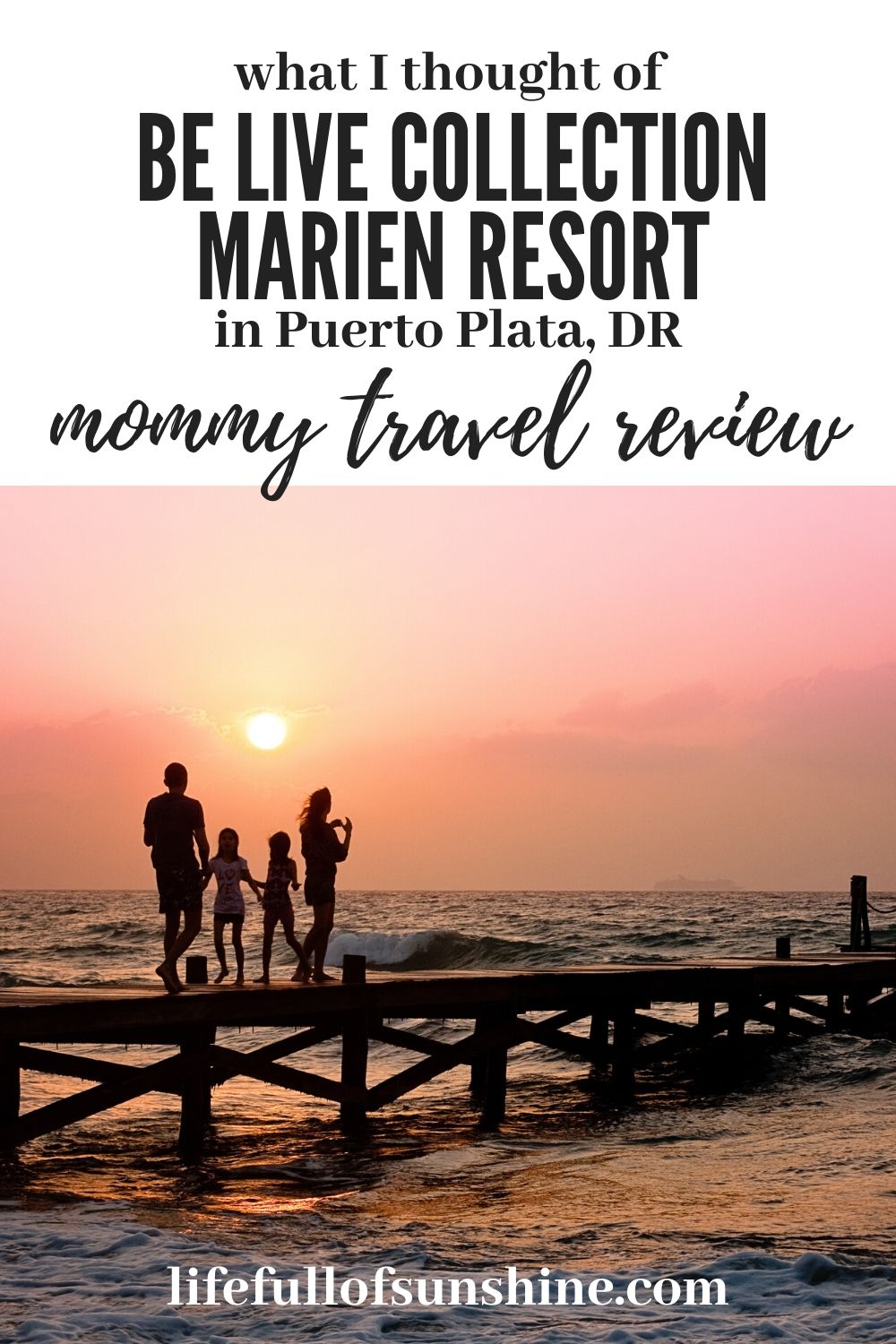 kids' program
The kids' program is one of the highlights of this resort for my family.  There were two girls running the kids' club during our vacation.  Their names are Veronica and Evelyn and they were so fabulous. 
You can drop off your children if they are between the ages of 4 and 12 from 9:30-12pm then again from 1:30-4pm.  If you're there during the busy season, they will have a schedule of events and activities that the kids can participate in during those times.  We were there in low season though, so it was more laid back.  My kids would just walk in and ask for sand toys or crafts or paints or whatever.  Parents are welcome to stay with the kids or drop off those in the age bracket mentioned.  They even made an exception and took my 3 year old because it was such a quiet season for them. 
The kids' club itself is located right on the beach in the corner of the resort grounds.  They have a fenced back area where the kids can play in the sand or on a swing set.  They also had big beach beds back there for any parents who wanted to relax while their kids played.  How thoughtful is that?! 
Each evening at 8pm, the kids' club staff also held a mini disco at the resort stage area.  They would come, dressed as clowns, and do some dancing and games with the kids.  So much fun!
food
The food at Be Live Collection Marien was good.  There was a good variety of food each day and the kids always found lots of great options to eat.  Everything was clean and well-presented.  I did try to avoid salad and raw foods for my kids – as I always do when we are traveling.  But I make exceptions to this rule sometimes.  If a resort salad looks very well-kept and fresh, I'll give the kids cucumbers or carrots or whatever.
Be Live Collection Marien has one large buffet restaurant that includes a kids' section.  That was really cute and the kids were excited about what foods they would find in this area at each meal.  They typically had pancakes and hashbrowns in the morning, some nuggets and fries in the afternoon and some kind of meat and potatoes in the evening. 
Service was quick and pleasant and even the guests were lovely.  Many people came to say hi to the kids and chat with us.
The resort also has 3 a-la-carte restaurants.  There's a Mexican, a Mediterranean and a Brazilian restaurant.  Easily the best one was the Brazilian.  See if you can make reservations there earlier in your trip so you can try going again later in the week if you want.  It wasn't just the food that was fantastic at the Brazilian restaurant, but the fact that different types of food was always coming kept the kids entertained and engaged.  That made for less havoc – you know what I mean. 
The Mediterranean is a super fancy, elegant restaurant so even though the food was great, it was a bit stressful given the quiet vibe and the large amount of glassware.  Make sure to book this one a bit earlier in the evening so that the kids are less likely to be too exhausted.  This restaurant is also the only place in the resort that is not stroller-accessible. 
The Mexican restaurant's food was my least favorite out of the three, although it wasn't bad at all. 
rooms
The rooms at the Be Live Collection Marien are pretty standard.  The ground is tile so it wasn't the prettiest thing.  They're not tight and can easily fit a couple of extra cribs when needed.  Oh and I also want to mention that they provide actual cribs, as opposed to the playpens that you get in many resorts.  The cribs were comfortable and cute. 
Another thing worth noting is that the resort will not allow more than three children to book in one room (family of 5).  So for my family of 6, we needed to book two rooms.  We were lucky enough to get two adjoining rooms on the ground floor during our stay, so we kept that middle door open all the time and kinda created a two-bedroom suite.  My husband and I slept with the baby in one room and our three little ones slept in the joining room.  It turned out great.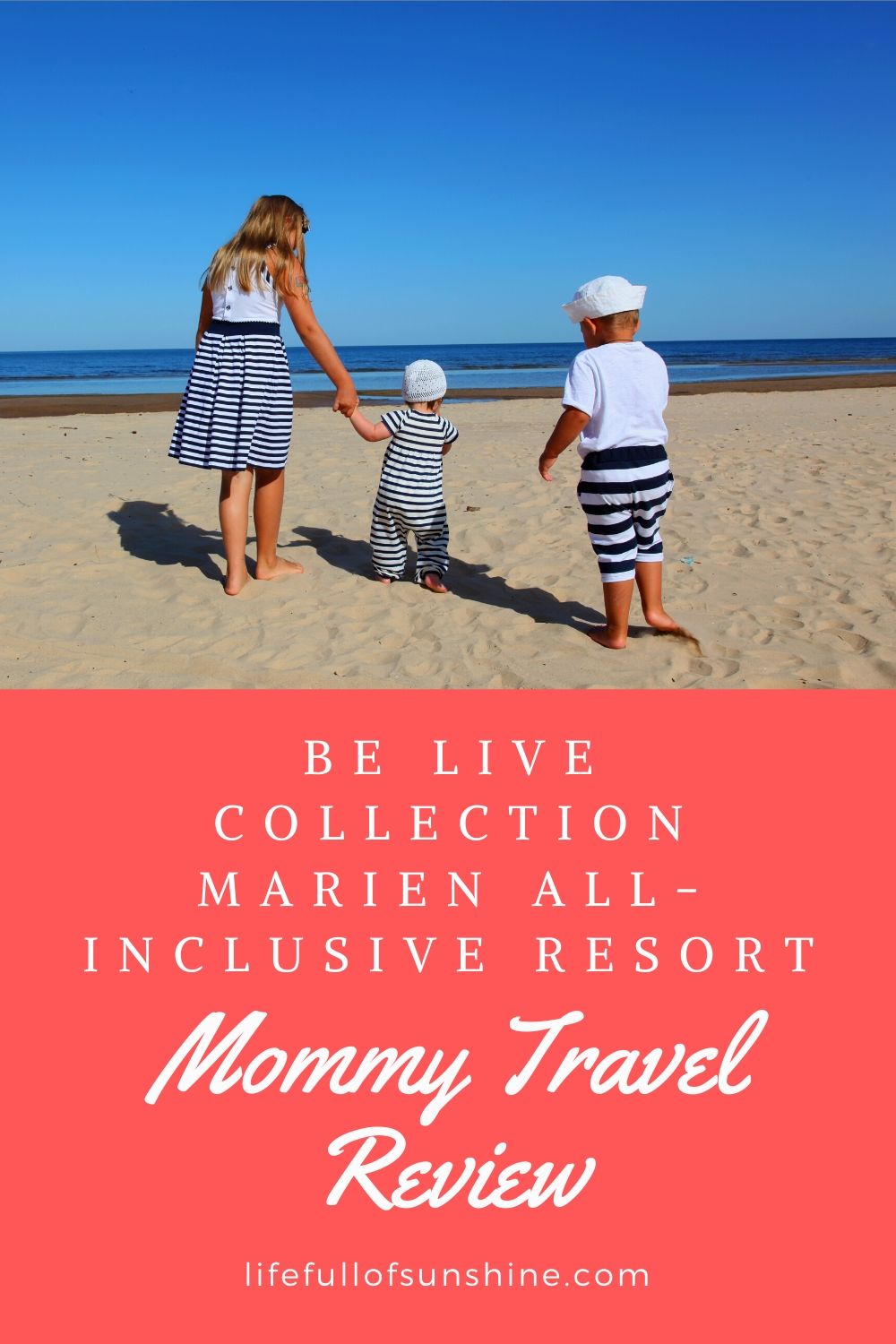 amenities
As mentioned previously, given that I'm writing from the perspective of a mom of four kids under 6 years old, there are many resort amenities and services I didn't get to use.  But I will mention what I've seen and what I did use. 
There is a meeting center on the resort property just off of the main entrance.  There is also a business center that includes three computer stations and a printer.  Wi-fi is available for free in the buffet restaurant, and is available throughout the resort property for $60USD per week or $25USD per 25 hours.
There is a lovely spa near the front of the hotel.  I did go and inquire about the prices but a massage was too pricey for my liking.  So I didn't end up actually using the spa. 
Near the kids' club, at the edge of the resort, there is an aquatic center where you can borrow snorkel gear or take out a kayak for an hour.  Around that area as well, if you walk off of the hotel property on the beach, you come to a local market where they offer much cheaper massages, braiding and tons of souvenirs.  Brace yourself though.  They do try to really pressure you and you need to be a master haggler. 
stroller accessibility
Given that the resort size at the Be Live Collection Marien is small, almost the whole property is stroller accessible and easy to get to.  The only part of the property that isn't stroller accessible is the Mediterranean restaurant, located on the second floor on top of the pool bar.  There is no elevator so a car seat would need to be carried up the stairs if needed.  The restaurant is also too small for allowing strollers. 
The beach has one stone walkway that goes more than halfway to the beach.  That was very helpful for the stroller cuz once you get to the sand, you need to muscle drag that sucker through the rest of the way. 
noise level
If the old me knew that I would classify the resort entertainment team under "noise level", she would've unfriended me.  Those guys would become best friends with the old me within hours of my arrival to the resort.  But… the new me gently turns away from the noise and sways to the rhythm of those children's Spanish jams they play at the kids' club.  Ahem… I'm not sad.
Generally, the noise level at Be Live Collection Marien is moderate.  In the evenings, having a room far away from the stage area made for a quieter bedtime.  The only time of the day during which there was a significant amount of noise was the late afternoon when the entertainment team would host a bunch of games and activities at the main pool.  This is geared toward adult guests, and although it never got too inappropriate, it definitely got loud and showy.  I avoided the area during that time. 
The demographic of the guests at the resort was not heavy on young adults.  That meant that there was no crazy party noise at night – which has caused lots of trouble for me at some other resorts.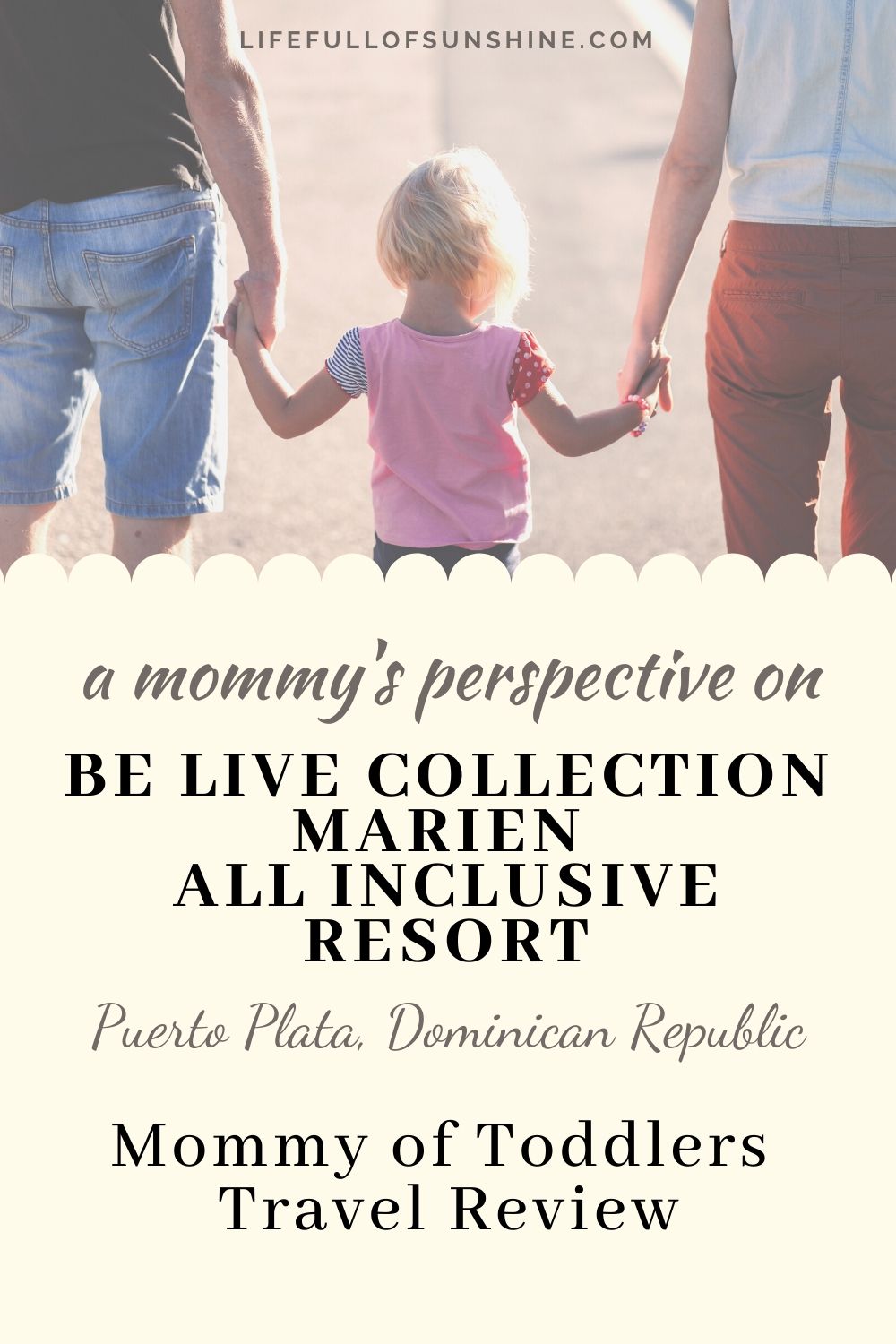 GROUNDS CLEANLINESS/BEAUTY/BUSYNESS
The resort property at Be Live Collection Marien is beautiful and well-kept.  It's clean and constantly being groomed.  As mentioned previously, the resort gets much busier during the weekends when many local families come in as guests.  Otherwise, service is pleasant and quick and the property looks like a lovely tropical paradise. 
bugs
I think it would be unfair to expect that we can go to a tropical vacation and see zero bugs.  We're going into their territory.  I'm of the opinion that a few bug encounters are not a sign of a lack of cleanliness or upkeep.  Having said that, I would definitely be disappointed with ants in my room or bees at the beach. 
With that mindset, I would say that Be Live Collection Marien does not have any excessive bug problems.  There are mosquitoes, especially at night.  I put bug spray on my kids before we got out for dinner and keep the bug spray right in the stroller in case a reapplication is necessary while we're out.  I also bring bug nets for strollers and carseats and use them if a kid falls asleep.  I also bring bigger bug nets (the ones that attach to the ceiling and hang over the bed) just in case.  If one of the kids seems to be a prime bug target, I cover the bed with that net at night.  Then of course I always have Benadryl (liquid and cream) and after bite cream. 
Check out this a free printable list of all the medications I take with me on vacation.  Also, be sure to check out this super helpful post that lists the important things you need to pack in your carry-on when flying with little ones.  
distance from the airport
The driving distance between the Puerto Plata airport (POP) and the Be Live Collection Marien resort is about 16km or about 25 minutes.  Keep in mind that the bus that drops you off at your resort often needs to make other stops.  But, even with one stop before us, we arrived within 30 minutes of starting the drive. 
Please let me know in the comments below if you have been to Be Live Collection Marien and what you thought of it.  Also, let me know if you have any questions about the resort that were not answered in the post.