top 5 family attractions in orlando, florida
Orlando, Florida is a very special place.  There's so much appeal in every corner of the city.  For a Canadian like me, the sunshine soothes my soul.  For the mama of 4 in me, the endless attractions appeal to my desire for family fun. 
This place has everything.  There are souvenir shops at every turn.  There are beautiful resorts filled with wonderful amenities.  And, oh, did I mention the parks?  Disney Parks, Disney Waterparks, Universal Studios Parks, Legoland, Seaworld, Discovery Cove, the Holy Land Experience.  If you can imagine it, chances are, they have it. 
It's mind-blowing.  But it's also super expensive.  The cost of a 1-day ticket to Disney's Magic Kingdom depends on the date of the visit but is about $125USD per adult and $120USD per child of 3 years and older. 
If you purchase Seaworld tickets at least a day before your visit, you save $20USD and only pay $85.99USD per person aged 3 years old and older. 
These kinds of admission prices can make it pretty hard for families to visit the Orlando parks – especially big families.  Take it from a mama of 4, when a one day visit to anything in the world would cost my family $730USD+tax, I'd expect them to turn me into a real life princess, not just let me visit with one.  Not that they're not worth it, (I wouldn't be able to sleep at night if I didn't admit how Disney-obsessed I am) they just might be impractical sometimes.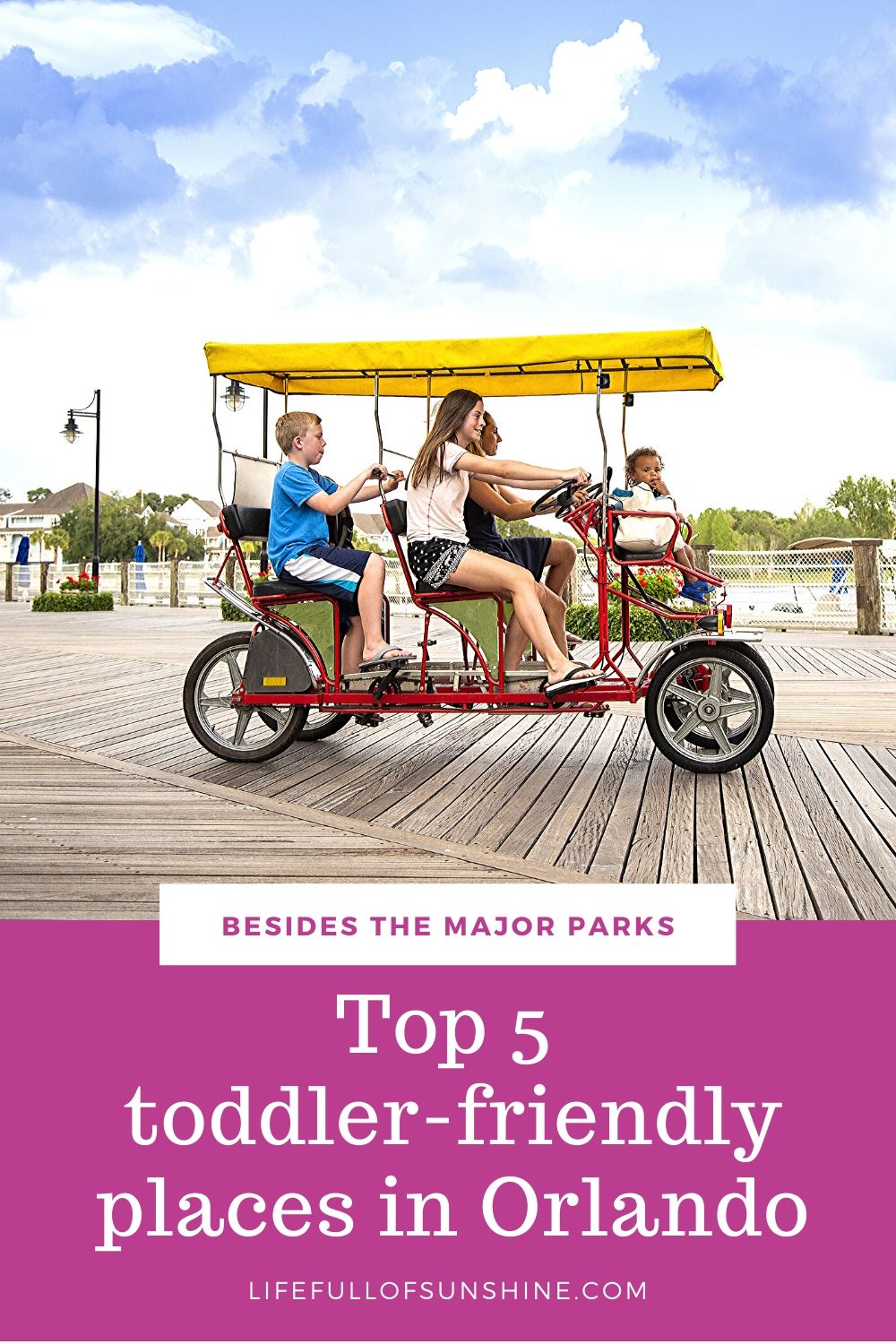 The good news is that there are so many other attractions in Orlando that are family-friendly, super fun and a lot more affordable.  We spent our recent week in Orlando without going to any major parks and ended up discovering some amazing family attractions. Here's a list of my favorite 5 places to go in Orlando with kids that do not include the large Orlando parks. 
1. the crayola experience
Address: 8001 South Orange Blossom Trail, Orlando, FL 32809, United States
Price: $19.99USD for anyone over the age of 2 if you buy tickets online ($24.99USD at the door)
Website: https://www.crayolaexperience.com/orlando
If you take an awesome indoor playground and soak it with viberance and color, you get the Crayola Experience.  This place is jam-packed with toddler and children's hands-on activities and experiences. 
As you walk in, each person gets a plastic bag with some coins and a little figurine.  You get to use those things to create your own crayon, get play dough from a vending machine, and create some fantastic art projects.  There are dozens of extremely engaging activities at every turn.  One of my personal favorites is a machine that takes two crayons that you load into it, melts them into liquid, and then drips them onto a spinning sheet of paper to create a gorgeous, abstract art piece that is totally unique.  My kids also totally loved coloring in a dragon or unicorn and then having it come to life on a computer screen when they loaded their completed coloring sheet into it.  How cool! 
The Crayola experience has a family restroom and a nursing room.  It has a toddler play area and another play area for older children.  There's a science lab, a café, and a show that teaches you how crayons are made.  I thought that we would only be spending a couple of hours there but we ended up staying all day.  Maybe we're just a nerdy family – I have a 6 year old, a 5 year old, a 3 year old and a 1 year old – but we had a hard time moving from station to station cuz the kids just didn't wanna leave.  I highly recommend this place to families with kids of any age.
The Crayola Experience
Awesome toddler-friendly themed indoor playground and experience.
2. the central florida zoo
Address: 3755 W Seminole Blvd, Sanford, FL 32771, United States
Price: $19.50USD per adult and $13.75 per child between the ages of 3 and 12. 
Website: https://www.centralfloridazoo.org/
There are several reasons why I totally fell in love with the Central Florida Zoo.  First of all, the property is not huge.  That means we were able to see almost all the animals during our visit.  Another awesome thing is the fact that all the walkways are wooden boardwalks.  Not only was that super beautiful against all the surrounding nature, but it was also completely stroller accessible. 
The Central Florida Zoo has a splash park, a playground, a train that goes around the whole property, a petting zoo, a carousel, giraffe feedings and lots of opportunities to meet the animal keepers.  The staff were also exceptionally friendly and welcoming.  We got lucky with a beautiful sunny day and had such a wonderful time exploring the gorgeous property and playing in the splash park.  The Zoo really has a tranquil, peaceful vibe to it, which was quite refreshing. 
Something worth mentioning here is that the Central Florida Zoo is located about an hour away from Kissimmee (where the Disney parks are).  It was quite a long ride for us because of that but, of course, that will depend on where you're coming from. 
The Central Florida Zoo
Beautiful grounds and a tranquil atmosphere with tons of things to do for little ones.
3. gatorland
Address: 14501 S. Orange Blossom Trail, Orlando, FL 32837
Price: $29.99USD per adult and $19.99USD per child between the ages of 3 and 12.  You can take $3 off of this price if you purchase online.
Website: https://www.gatorland.com/
This park says Florida all over it and was truly a gem to discover.  My kids had a total blast at this gator-packed park.  Seriously, there's gators at every turn.  And it's not like a couple of gators either, it's like dozens and dozens of them.  So awesome.
One of the coolest things about Gatorland is their list of shows.  They were super entertaining and very educational too.  Be sure to leave plenty of time to go to the back of the park and walk through the boardwalk that goes right over the breeding marsh.  It's a gorgeous view contrasted with the thrilling excitement of seeing the crocodiles in the marsh.  We also saw some beautiful birds too.  The kids all loved it.
Gatorland is also not so huge that you can't get through it in a day.  The kids were not completely exhausted by the end so that makes for a relieved Mama. 
Gatorland
Gator-packed, family friendly park with fun shows and beautiful views.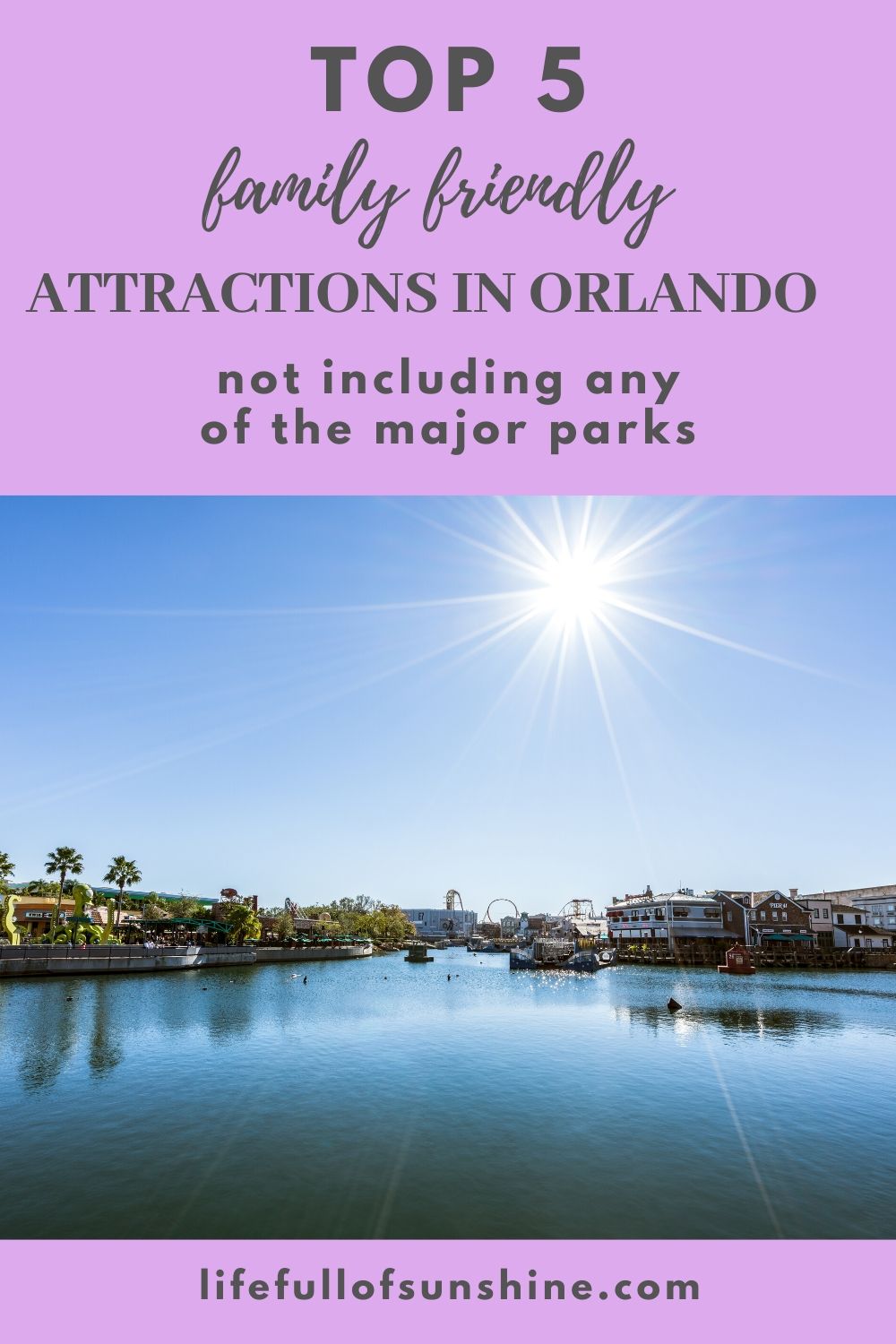 4. disney springs
Address: 1780 Buena Vista Drive, Orlando, FL, United States
Price: FREE
Website: https://www.disneysprings.com/
Okay, this is seriously one of my favorite discoveries in all of Orlando.  This place is what you'd get if the Disney Parks and some gorgeous outdoor mall had a baby.  It's a Disney-themed outdoor mall and it's so pretty. 
First of all, I love that this place is free.  And although we might not have bought the $15 balloons from a giant Disney balloon bouquet or the $25 light-up wands being sold by a Disney staff member, it reminded me so much of the parks.  And I totally loved that.  It still feels magical and Disney-ish, although it's only a strip of stores and coffee shops for pedestrians. 
At night, there are street performers, magicians and even some dance shows.  It's set over the lake so it's such a stunning view.  There are pizza shops and ice cream parlors and high end boutiques.  But you know what store is my family's absolute favorite?  The Lego Store. 
Oh man, let me tell you about the Lego Store.  It's seriously like a little playground of its own.  We could spend several hours there easily.  I should mention that all my kids are Lego-crazy, but really, what kid (or grown-up) isn't?  They have so many different stations where kids can build structures, vehicles, Lego characters, you name it.  There's a race area where kids can race the cars they built.  There's also a Duplo play area for younger children that might put little pieces in their mouth.  And it's all free.  Unless, of course, you get suckered into buying some sets for your kids.  But that's on you, man.
There's also a giant Disney Store at Disney Springs as well.  This is like the mother of all Disney stores.  It's huge and magical and has every possible Disney toy or costume or souvenir you can imagine.  But, an Orlando tip from a frugal Mama: if you're gonna buy a Disney souvenir, it might be better to check out any of the local Orlando souvenir shops first.  All over the Kissimmee area, stores sell Disney shirts, mugs, towels and all kinds of other things at a fraction of the price you would pay at the actual Disney store. 
Disney Springs
Beautiful and FREE to visit outdoor mall with great stores and shops.
5. beaches within a 2-hour drive
Full disclaimer here, my family loves beaches.  Like we will seek out and drive long distances to get to spend a day at the beach.  And even though Orlando is a city located almost smack dab in the middle of Florida, there are several fantastic beaches not too far away. 
Cocoa beach is about a 1 hour and 15 minute drive from the Disney Parks.  The beach is beautiful and kid-friendly.  There are lots of places to get good food and pretty souvenirs.  And if you're as beach-crazy as we are, it's totally worth the drive.
Fort Pierce beach is a 2 hour drive from the Disney Parks area but might be worth the extra drive if you're visiting Orlando in the winter.  During our January trip to Orlando, the weather in Fort Pierce was significantly warmer.  Travel Tip: we quickly learned that Florida highways are full of toll stations.  If you choose to allow tolls on your route, you could end up paying a significant amount of money for a slightly faster route.  Check your options before making a decision.
Clearwater beach is still my favorite Florida beach.  It is a 2 hour drive from the Disney area but is so perfect for families.  It has an awesome playground, powdery white sand, calm waters and a great pier.  At night, the pier lights up with vendors and street performers.  It really feels like you're on a tropical vacation.  The Clearwater marina is also packed with wonderful family-friendly attractions and ideas.  It's home to several fishing boats, dolphin watching cruises and, my all-time favorite, Captain Memo's Pirate Cruise.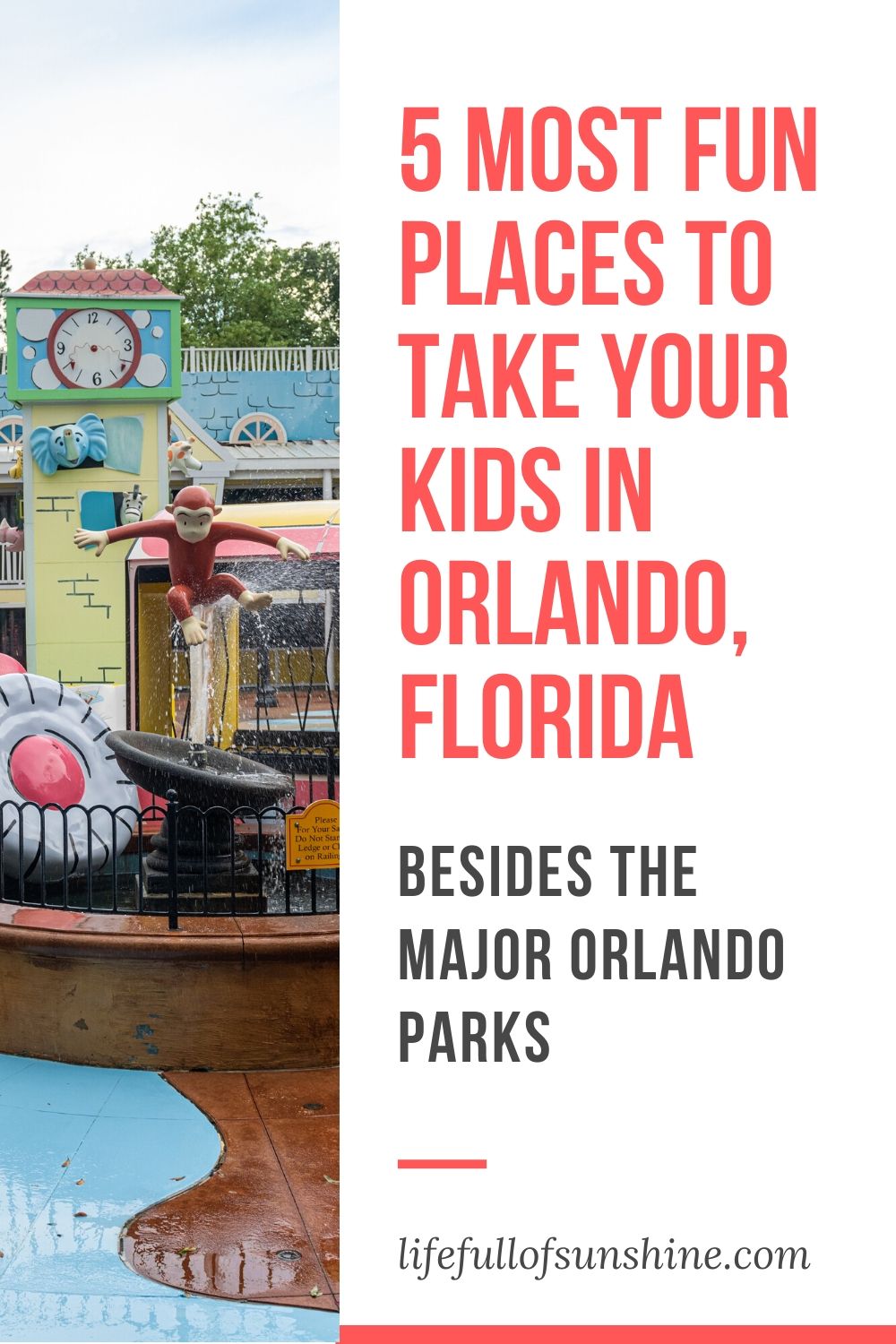 In general, Orlando is a city that has no shortage of fun, kid-friendly attractions and activities.  Even if you would rather avoid the cost and intensity that comes with the major parks, there are still tons of options for things to do with toddlers and little ones.  It's also a good idea to pick a great family resort if you're flying in.  Many Orlando hotels and resorts have their own pools, water parks and fun amenities. 
If Disney is still your jam, check out this perfect 1-day itinerary for Disney's Magic Kingdom, and be sure to read up on how to make the most of the Disney FastPass.  
If you found this post helpful, please comment below with your thoughts.  Let me know of other cool places you've been to in Orlando with your kiddos.  And please don't forget to share.